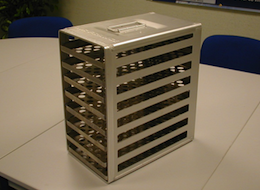 Atlas oven rack locker with 8 extractors
Description:
Equipment made of anodized aluminum, thickness 12/10 mm with 8 extractors and reinforcement on the front face.
Overall dimensions: 421 x 386 x 224
Welding and clinching secure the rigidity of the equipment. The ventilation apertures were optimized to ease the air circulation.
Marking name of your company.
Equipment manufactured according to ISO 9001 norm, using the most innovating assembly techniques.
Our maintenance department is responsible for the general maintenance of your equipment which enables you to benefit from the implementation of any improvement.
Any specific requirement can be applied on our product.